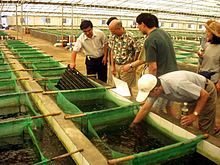 Do you have specific interests in any kind of sustainable agriculture?  What about the Access and Collaborative Economy (ACE)?
If you are interested in either of these ecolonomic areas, we have world-class expertise to help you.  We have been working with entrepreneurs like you for many years and we can help you.  Most importantly, we are not motivated to make money on fees that are generated from our services, but rather by working in a risk/reward manner.
If we can help you succeed then possibly we can see a little success from our efforts also.  This is the model our Founder, Dennis Weaver, wanted us to use.  In our mind it is the essence of ecolonomics.  It embodies "Making the Planet Better and Making a Little Money Doing It".
Please explore our site here and go to our blog to see what kinds of things we are up to and see how we might be able to help you with whatever you are working on.
Reach out to us and schedule a FREE initial consultation to explore possibilities.
We have several business development campuses around the world, and we would love to have you come and visit us to see how we might be able to benefit you with the project on which you are involved. Again, check out this Site and our Blog regularly for more info and call us at our offices if you have questions. 303-495-3705.